Posted By Jeff on March 1, 2009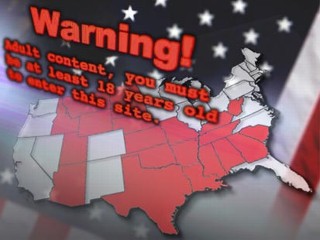 Well, ABC News says they do.
New Scientist says they do.
So it must be true, right?
Well, not so fast. I aver that no one likes to expose hypocrisy more than I do; and that there are porn fiends amongst the denizens of the Bible Belt, even more so than there are in perverted inner Circles of Hell such as New York or San Francisco, is a juicy and salacious story. I would love this story, for sure, except that I read the actual report on which it is based and I am very keen on statistical analysis.
So I allowed the facts to ruin the story for me, something a lot of people just won't do any more. I do not have a quarrel with the actual report, researched and written by Benjamin Edelstein of Harvard. It is the mainstream media that chose to jump all over Utah for being the No. 1 state for subscribing to porn and to latch onto "8 of Top 10 Porn-Consuming States Voted Republican in 2008 Presidential Election," (ABC) almost as though John McCain could have done better getting out his vote by advertising on xtube.com than he could have by going on Letterman.
What the headlines do not tell you, however, is that we are talking about small numbers and small differences. Edelstein's report says, quite clearly, that:
… Controlling for broadband access, states show remarkable similarity in their subscription quantities, as shown in Table 2. Dividing state subscription counts by the FCC's Broadband Deployment quantities, the most-subscribing state is Utah(where 5.47 of every 1,000 broadband households subscribed to the service at issue), while the least-subscribing state is Montana (1.92 per 1000 broadband households). The ratio of these extremes is just 2.85—relatively small in comparison to states' diversity in other respects.
Translated: There is a small difference between how many people subscribe to porn sites in Salt Lake City and how many do so in New York City. It is a measurable difference, but it does not mean very much …
Of more significance, perhaps, is that city-dwellers watch more porn than country folk. But that is not as sexy as picking on the Bible Belt. The author of the report concludes:
On the whole, these adult entertainment subscription patterns show a remarkable consistency: all but eleven states have between two and three subscribers to this service per thousand broadband households, and all but four have between 1.5 and 3.5. With interest in online adult entertainment relatively constant across regions, there's little sign of a major divide.
I've asked Prof. Edelstein if he thinks the media has done a good job (or not) in reporting on his research. And I've also asked a few other people from whom I hope to hear back, either directly or when they write about this report themselves. One is Nate Silverman, the statistics whiz who runs fivethirtyeight.com; and the other is Suzi Parker, author of Sex in the South: Unbuckling the Bible Belt, 1000 Best Bartender's Recipes and the upcoming Echo Ellis: Adventures of a Girl Reporter.
I trust either of them with this kind of information far more than I trust ABC News. I'm reading Sex in the South aloud to the SMC these days and recommend it to everyone … If you want the book, please contact Suzi directly as she now owns the rights to it.
P.S. Here's a glimpse of Conservative thinking on this vital issue.